The Veritas 7 Mission Statement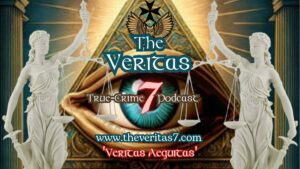 Here at The Veritas 7 – True Crime Podcast, and our parent company, WOMEN – Wild Orchid Media & Educational Network, Inc., our mission, though challenging, is actually quite simple in its scope.
We have tasked ourselves with maintaining awareness, sharing facts, and increasing public knowledge regarding some of the most diabolically engineered human events which have occurred throughout history. And while that journey often takes us through the darkest depths of human depravity, psychopathology, and mental illness, it is also among the most emotionally rewarding endeavors we can imagine – particularly every time we hear that another case has been solved; another perpetrator has been identified and brought to justice, or especially when another missing or exploited person is safely returned home to family and loved ones.
Further, if even one person who ingests our content intentionally decides to take a different path than one of our meticulously selected case subjects did, and as a result of that decision, returns home safely that night themselves, the reward, though unrealized, is immense.