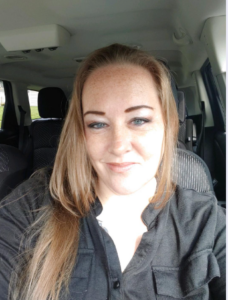 Jennifer Foulk is a Midwest-born transplant to Tucson, Arizona. Born and raised in Toledo, Ohio, Jenn has had many jobs in automotive and security but her proudest moment was being a correction officer from 2014 to 2020 where she met her current husband, Nick, who was also a correction officer. Jenn is also a mother of three adult children, Carlie, Regan, and Vinnie, and a grandmother to Regan's son, Finn. Jenn and Nick have three German Shepherds, Nova, Hans Gruber, and Lilith. Jenn has a love of the metaphysical, astrology, tarot, and is a proud Scorpio sun, Scorpio moon, and Virgo rising.
Jenn really felt in 2020 that she needed a change and got the opportunity to leave Ohio and start a pool-cleaning business with her husband in Tucson, Piranha Pool Service. Nick is the backbone of the pool business and works that while she is currently a 911 telecommunicator for the Sheriff's Office by day but she writes zombie books and saves the post-apocalyptic world by night. She has wanted to be an author since the age of 14 and made her dream a reality in 2021 with her first book, The Group: Jana. If you're interested, you can find her books on Amazon. Jenn is an avid reader and loves her independent authors. She is a co-host of a podcast, The Book Asylum, which chats up independent authors from all genres.
Jenn is also a holistic healer who has a little online side business, Morrigan Holistics, that focuses on natural medicine. She has taken classes to expand her knowledge and became certified in natural medicine in 2023 and continues her education in the field. This business creates salves to help with things like eczema, arthritis, and other unspecified joint pain, chapsticks, massage oils, and much more. Morrigan Holistics also makes ritual oils for metaphysical purposes.
Jenn has many hobbies and interests which include prepping, RV living, hockey (Go Red Wings!), firearms, making tee shirts for friends and family, muscle cars, and a very sick addiction to office supplies. Jenn loves being part of the background group that makes things like this possible which is why this is the perfect fit for her.
Morrigan.holistics on Instagram
Morrigan Holistics on Facebook
Morriganholistics.com
jenn_amato_author on Instagram
Jenn Amato Author on Facebook
Jennamatoauthor.net
Piranha Pool Service on Facebook
Piranhapools.com