The Incredible Case of Debbie Collier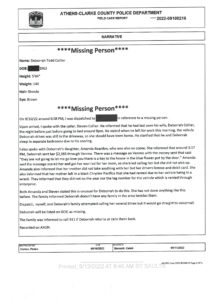 The first page of Debbie Collier's actual missing person report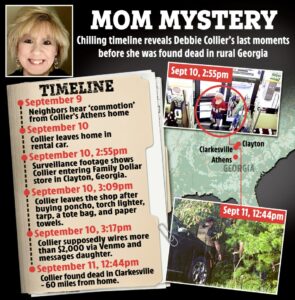 Various sources have attempted to explain Debbie's route, but they are contradictory. She left Athens, but little is known in regard to when and what she did, but eventually she drove north on Georgia Route 15. She drove north 12-13 miles to Clayton and stopped by the Family Dollar store.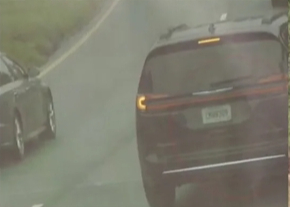 At 2:17 p.m., traffic cameras spot Collier's vehicle driving northbound on  Georgia Route 15 in Tallulah Falls. She walked into a Family Dollar store in Clayton at 2:55. Some sources report her stopping to eat. From Tallulah Falls to Clayton would have taken her about 15-20 minutes to drive.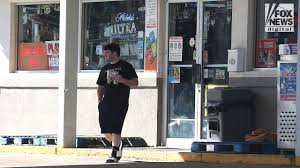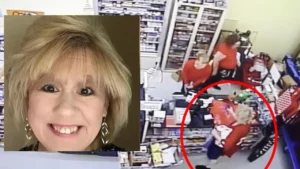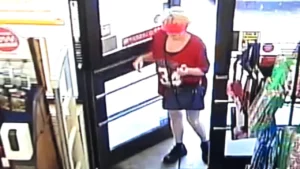 Debbie,  a Georgia Bulldogs fan, is shown wearing a 34 jersey.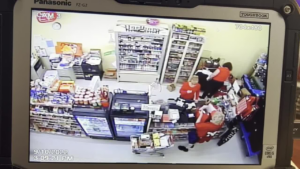 Pictured is The Family Dollar store, where a video shows Debbie shopping. She bought a blue tarp, a red tote bag, paper towels, a torch lighter, and a poncho, some of which were found beside her body.
2:55 – 3:09, Debbie shopped. At 3:17, Debbie returned to her car.  She sent her daughter, Amanda, a cash payment and message. "They are not going to let me go Love you there is a key to the house in the blue flowerpot by the door."  An unsent text message to her son read, "I love you." Her phone was then turned off.
Debbie then drove south on Hwy 441/ Hwy 23 again. She was reported missing that evening. her trail was cold until she obviously drove south again on Georgia Route 15. She died sometime during the next 21.5 hours. The next day, on the 11th, her car pinged the Habersham County Sheriff's Office that a rented Chrysler Pacifica driven by a missing person was in their jurisdiction. Debbie's vehicle was found at 12:30 PM. A canine officer found Debbie's remains.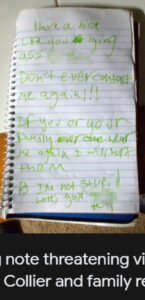 A note that interested police,  Debbie's daughter's boyfriend wrote, "If you or your family ever come near me again I will hurt them," Andrew Giegerich supposedly wrote. Amanda and Andrew had a stormy relationship, including many domestic violence issues.
Debbie was found burned, naked, and clutching a tree that had been recently cut.