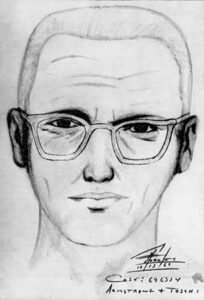 It was Christmas 1968. Two sixteen year old high schoolers were on their first date. Betty Lou and David Arthur were on the outskirts of Benicia on Lake Herman Road. Their plan was to attend a Christmas Concert at Hogan High School, sadly they never made it. At approximately 10:00 pm that night, David parked his mother's Rambler in a dirt turn-out. The area was known to be a sort of "Lovers Lane." Sometime between 10:15 pm and 11:00 a heartless killer shot young David in the head and his date, Betty Lou five times in her back as she fled.
This would be the beginning of the most notorious crime spree in our nations history. It is thought that a man named Arthur Leigh Allen who passed away in 1992, could be the wanted Zodiac Killer. With lack of DNA and deaths that spanned over decades and geographically wide spread, the killer has still not be revealed. Without an exact number, it is thought that the Zodiac is responsible for at least thirty-seven deaths.
The Zodiac for many reasons remains a mystery for forensic experts as well as an array of books written in an effort to bring justice and closure to the victims families. Left behind are unsolved codes, messsges and scribbles that the suspected killer wanted public. His attempt at fame and his obsessive need for attention etched his name in the history books as the infamous Zodiac Killer. Detectives hope after keeping some of the murders as 'open' cases,' that eventually DNA evidence or hidden discovery will one day bring closure to the the gaping wound this killer left unhealed for the grieving families.
Ellie Cheryl
Be sure to join the discussion in our incredible Facebook Discussion Group, as well as follow The Veritas 7 – True Crime Podcast on X, Facebook, Instagram/Threads, TikTok, and LinkedIn. Also, don't forget to like and subscribe to our new YouTube channel as well! You can listen to The Veritas 7 – True Crime Podcast anywhere you get your podcasts or on any page of our website!