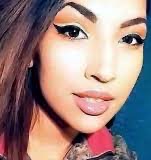 In a world beset by countless of unsolved mysteries, the immensely high rates of missing and murdered Indigenous people is truly a nationwide crisis and Montana is considered a major center for this problem. Native Americans make up only 6.7% of Montana's population, yet they make up an average of 26% of the state's active missing persons cases according to the National Institute of Justice. It's because of this, I'm compelled to dig a little deeper into the heartbreaking case of Jermain Charlo.
Five agonizing years have passed since Jermain vanished from downtown Missoula. The last sighting of her was with her ex-boyfriend, Michael DeFrance, who is also the father of her two children. Security cameras recorded them leaving the Badlander bar and strolling down an alley on the night of June 16, 2018. Tragically, Jermain was never seen again.
Throughout the investigation, DeFrance emerged as the prime suspect, but he was never implicated in her disappearance. Other theories suggested that she might have been sold into sex trafficking or entangled in drug-related activities. There were also rumors that Jermain was in a relationship with a man named Jacob Love before she disappeared. However, he was found to have no ties to her going missing. While any of these theories could be the case, I can't ignore the potential involvement of her ex-partner, Michael DeFrance. There are numerous reasons why I think he's a likely suspect, let's explore a few.
DeFrance has a documented history of abusive behavior. He was arrested multiple times for committing acts of domestic violence against Jermain and others. However, the charges never led to any significant legal consequence, allowing his violent behavior to continue. Strangely, many cases against DeFrance were dropped for reasons unknown.
During the investigation, DeFrance gave conflicting accounts about what happened the night he and Jermain parted ways after leaving the Badlander bar. He informed Charlo's family that he left her at Orange Street, close to the Food Farm. This version of events has been widely publicized. However, when speaking to Detective Guy Baker from the Missoula Police, DeFrance claimed that he actually dropped Charlo off near the intersection of Prince and South Fifth Street West– eight blocks away from the Orange Street Food Farm.
Phone records indicate that both Charlo's phone and DeFrance's phone were detected by a cell tower located about three miles from the Defrance family home and Jermaines phone was active until 10am the day of her disappearance.

 
Jermain, like many other Indigenous women, disappeared without a trace, never to be heard from again. Despite the gravity of these cases, they seldom make headline news, highlighting the extent of this nationwide crisis. It's time we draw more attention to these stories, in the hope that one day, they, like many others, will be resolved.
Be sure to join the discussion in our incredible Facebook Discussion Group, as well as follow The Veritas 7 – True Crime Podcast on X, Facebook, Instagram/Threads, TikTok, and LinkedIn. Also, don't forget to like and subscribe to our new YouTube channel as well!
You can listen to The Veritas 7 – True Crime Podcast anywhere you get your podcasts or on any page of our website!
April Hill is the author of the Crossing The Line series. You can visit her website for more information at www.authoraprilmhill.com