Every year people go missing in National Parks. The numbers are higher than you'd think. Find out which National Park has the most missing persons and why with technology advancing equipment does this number of reported missing people continue to grow? One particular case of murder is still unsolved.
The federal government does not track the exact number of missing persons in National Parks, but experts believe about 1,600 individuals mysteriously vanish each year while visiting National Parks throughout the United States. There is one park that the New York Post recently found in a recent investigation that is the deadliest in the country. According to the reporting, there have been at least 6 people found dead and a staggering 56 missing persons at Grand Canyon National Park. These reported missing persons occurred between February 2018 and June 2023. Once a person goes missing, they are added to a long list of disappearances. Many of the park's visitors are unaware of the mysterious cases of people who have simply, just vanished. One of those cases is a missing 22-year-old hiker, Morgan Heimer. Morgan is a white male, 6″0 tall 175 lbs. Blonde hair. Last seen wearing a dark-colored Astral personal flotation device. A blue plaid long-sleeve shirt. He was last seen on Tuesday, June 2, 2015, around Colorado River mile 213 near Pumpkin Springs. The search for Heimer is continuous.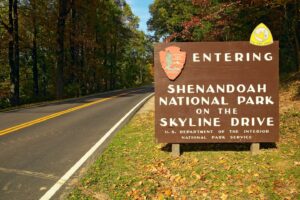 Many missing person cases stem from either a hiker being lost or unexpected inclement weather. Lightening, snow storms, and rising flood waters make situational awareness paramount, The first mistake is failure to plan. It is important to let someone know where you are going and the exact itinerary. Solo hiking is discouraged but with an advance in digital maps, Garmins, and other locational tools, it is hard to understand why these numbers continue to rise. GPS tools are relied on by many hikers but many GPS systems do not work in many of the National Parks, especially remote ones. Many of the systems also don't reflect current conditions.
On June 1, 1996, two hikers/campers went missing in the Shenandoah National Park. Julianne Williams and Laura Winans were found murdered at their campsite. Williams was 24 and Winans 26. The girls were last seen working together with a Golden Retriever named Taj on May 24, 1996. The dog was found wandering in the park near the Whiteoak Canyon Trail. The women's bodies were found in their campsite on the Bridle Trail, near Skyland Resort. The case has very few clues as to a motive and who could have committed such a brutal crime. Laura was found inside her tent. Julianne was in her sleeping bag about 40 feet away down an embankment. Their hands were bound, mouths gagged and their throats slit. Both girls were partially undressed but not sexually assaulted. They have had a few suspects, one was even arrested in the case but later overturned due to lack of evidence. As of current, this heinous crime remains unsolved. Any tips in the case you can call 888-653-0009
It is advised to always travel in groups, and carry safety protection and a loud whistle. Always share with someone your plan and check weather reports. Many crimes in National Parks remain unsolved and rely on the public to hopefully one day bring closure to some of their families.